It seems every time I have a new laser cutting project in mind, Ponoko is running a special. This time it was a generous 30% off making costs as part of Cyber Monday.
I'm making lampshades for my daughter's doll's house. The lower rooms, in particular, are very dark and badly in need of some illumination.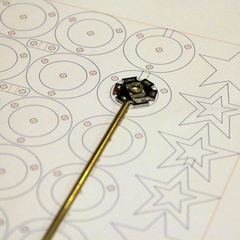 Like last time, I've specified my design in Processing . This was really quick to do and should produce 5 neat little lampshades that will each contain a star LED module. Wires running to the lampshades will be concealed in brass "conduit" with little brackets to keep the conduit in place. Everything will be affixed to the doll's house with self-tapping screws.
There was some space left over so I added a little Christmas star, which will contain a colour-changing LED, for fun.